Nature

/

Objectives
We engage in service providing Medical nursing services/ Nursing Services to the needy people.

We provide services ranging from skilled nursing and rehabilitative therapy to hospice care and hospice care for patients, families, senior citizens and health care professionals in the communities' service.
We provide a variety of services including disease management, post-surgical care and wound care and manage with coordinates and guided the patients overall plan of care.
The licensed physiotherapists have a depth of experience in helping patients recover from fall injuries, joint replacement surgeries, and stroke related disabilities. Physiotherapist will assist the patient in learning how to restore function by training on gait, use of cane, walker, wheel-chair, artificial limb, energy conservation, and return to work status.
We take care & provide helping hand to disabled, old age, bedridden and critically ill patients.
Why to Choose us
To avoid extra unnecessary expenses and hospitalization.
We will provide nursing care as per your Doctor instructions and advice. In critical condition we provide help like, ambulance, hospitalization, etc.
We provide custodial care and assist depending on patient condition.
Fearless satisfactory health environment to the patient and relatives in their ill health condition.
We Are There to Care You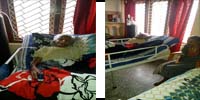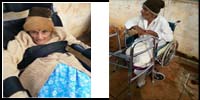 NURSING CARE INCLUDE
Evaluation and close monitoring of a condition for improvement or decline.
Assistance with medication management.
Treatments, such as wound care and dressings.
We assist them in Bi pap, C pap, oxygen, Nebulizer & etc…
Care and maintenance of catheters, tubings such as PEG, Ryles (feeding) tubes, Urinary Catheters, Drinage tube, Tracheostomy & Oral Suction etc…
Fluid/diet according to their diseases condition.
Physiotherapy (concerned therapist)
Ayurvedic body massage (Concerned therapist)
Adaptation of the homely environment.
Education to patient or their loved ones related to the diagnosis.